http://www.johncoltrane.com
(September 23, 1926 - July 17, 196)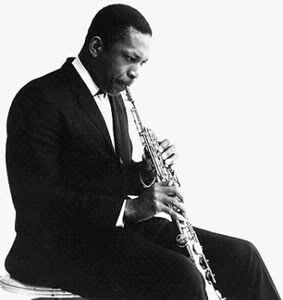 I don't know if I've already mentioned that I was introduced to jazz at an early age because it was what my father listened to. Whenever we went to the beach dad would have his radio and it would be tuned in to the jazz station. I can't hear a certain type of jazz without thinking of the beach or my father.

John Coltrane was one of my dad's favorites and I will always picture the album "Blue Train" in his small collection of his favorites. When I think of John Coltrane I hear Blue Train.

Excerpt from Wikipedia:


Coltrane has been credited with reshaping modern jazz and being the predominant influence on successive generations of saxophonists. Like tenor saxophonists Coleman Hawkins, Lester Young, and Ben Webster before him, Coltrane fundamentally altered expectations for the instrument.

Coltrane received a posthumous Special Citation from the Pulitzer Prize Board in 2007 for his "masterful improvisation, supreme musicianship and iconic centrality to the history of jazz.
This clip is Miles Davis and John Coltrane and I chose it because it has my father written all over it.