http://www.jackiemjoyner.com
http://www.myspace.com/jackiemsoul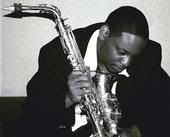 Jackiem Joyner is another artist I found while browsing around on MySpace. Soft, sexy and mellow - I instantly took a liking to him. I can't find a video but if you click on his MySpace link above you can get a sample of his music. His debut album is called Babysoul through Artizen Music Group.

A portion of his bio on Artizenmusic.com reads:


After several years of playing with keyboard greats Marcus Johnson and Bobby Lyle and saxophonist Jaared, co-headlining a 30 city tour in 2004 with Ronnie Laws and jazz and soul singers Angela Bofill and Jean Carne, and opening gigs for everyone from India Arie to Boney James, Spyro Gyra and George Benson, Joyner took a full year off to focus on writing and recording an album that marks his status as "a baby coming into the world, a new soul emerging into the music business." Babysoul is more than just a title- it is a true description of his professional re-birthing.
Check him out. Hope you enjoy him as much as I do.